Vinny model, what a project!
Kaven Posted on March 14 2022
I'm excited to share that my new Vinny model just arrived! These frames come in four unique colour options. Two of them are an add-on to our 14k gold plated model collection. The frame is crafted with care and precision, made to suit your face perfectly. If you're looking for a stylish, sophisticated frame that will make a statement, the Vinny is a perfect choice.
What's not to love about this piece? The classic gold and black or the more modern tortoise brown with blue tones make for an eye-catching design. And when you add in our maxims Live To Create, it stands out! You'll be sure everyone on your block will know who made these shades.
These glasses are perfect for anyone who wants to be recognized without saying a word. The frame shape is reminiscent of old-school hip-hop fashion but updated with today's culture. Imagine crossing paths while walking down any street- especially those filled up New York City sidewalks-, both parties know exactly what they're looking at. It hits them equally hard because words don't need to exchange between two people when recognition happens like this!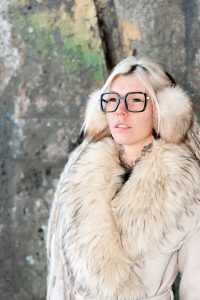 The colours of the eyewear are endless. Whether you want classic or funky, there's an option for everyone! The other colour is transparent electric blue with gunmetal, and the other one is frosty red with a touch of matt black - it has that extra something special when paired together.
It doesn't matter what colour your taste may be; we've got shades to please every mood and preference out on their range.
So, if you want to be ahead of the curve and have the year's eyewear, see us! We love gathering unique and creative people in our family, and we are always excited to help new clients find their perfect pair of glasses. Plus, today is a great day to start looking – we have a special offer for every eyecare professional who takes an appointment with us before the end of September! Don't miss out – book your appointment now.